Pahlaj Nihalani Out, Prasoon Joshi In
Mumbai -
The nation's most hated and Bollywood's bad man Pahlaj Nihalani has been sacked from the Chairman's post at Central Board of Film Certification (CFBC).
According to the reports, eminent lyricist, poet and adman Prasoon Joshi will be taking charge as the new chief. Further, Popular actress Vidya Balan will also be a part of the CBFC committee. Joshi's appointment is with immediate effect and he will be serving as the Chairperson for three years.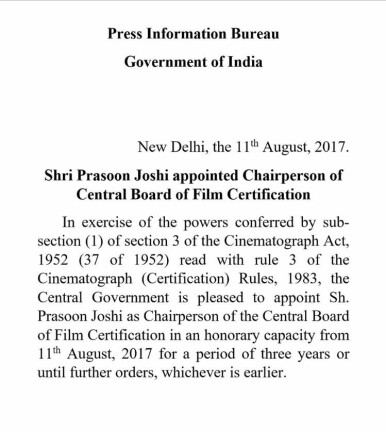 Nihlani was informed last month about being replaced and there were also rumours about Prakash Jha, Madhur Bhandarkar and other being considered for the position. Over the last few months, Nihalani's decision in film cuts and releases has been hated by the nation and he has been on the black mark, according to the fraternity. He was appointed as the chief of the 23-member board in 2015 and was quite popular for his political inclination with the ruling party.
This change in the core committee will have a positive impact on the Indian film industry. We hope that Joshi and his team will promote and encourage independent cinema and creative thoughts, and take the Indian cinema to new heights.