Let's celebrate our nation's pride on 'International Tiger Day'
Mumbai -
July 29 is marked as an important day for our National Animal. India's apex predator deserves a day dedicated during the year. 'Global Tiger Day' or 'International Tiger Day' is celebrated to raise awareness for tiger conservation and it was created in 2010 at the Saint Petersburg Tiger Summit. The goal of the day is to promote a global system for protecting the natural habitats of tigers and to raise public awareness and support for tiger conservation issues.
National Animal of India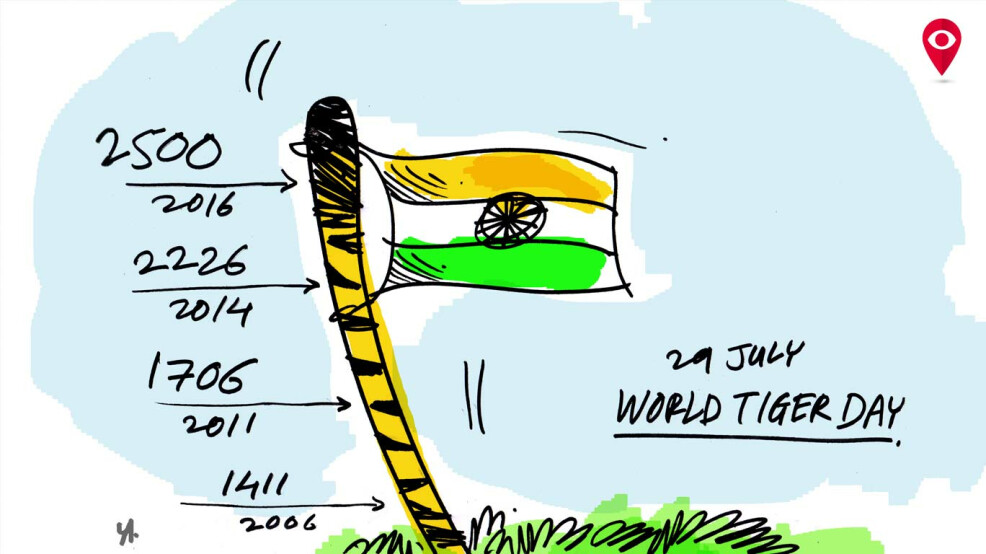 The common answer to why the Tiger is the National Animal of India tells you power, strength, elegance, alertness, intelligence and endurance of the nation. Tiger is symbolises the Indian subcontinent and is found throughout the country except in the north-western region. It occupies a variety of habitats from dry open jungles, humid ever-green forests to mangrove swamps. But unfortunately, the National Animal is listed as an endangered species on the IUCN Red list as poaching and decrease of forest cover have lead to a serious decline in the number of tigers in the country.

The Indian Wildlife Protection Act was brought into action in 1972 after the Royal Bengal Tiger was declared the National Animal and it enables government agencies to take strict measures so as to ensure the conservation of the Bengal tigers. Project Tiger was launched in 1973 with an aim to preserve viability of the Royal Bengal Tigers in India and increase their numbers. Currently, there are 48 dedicated tiger reserves in India, several of whom has been successful in increasing the number of tigers in the respective area due to careful monitoring of individual tigers using GIS methods. Strict anti-poaching rules and dedicated task force have been set up to eradicate the threat of poaching from these reserves.

Sanjay Gandhi National Park, Mumbai
In 2003, pug marks and droppings of a Bengal tiger were found in the park. Although a tiger was never really seen, it did bring some excitement to the city as records of tiger being found there are quite old and forgotten now with the last tiger being shot down 80 years earlier in the region. A tiger was brought from Bhopal into SGNP at the age of three in the year 2006. He followed Amitabh Bachchan in National Park when he came to promote the 'Save Tiger' campaign. The tiger later died due to some disease. Conservation was also proposed for the interlinking habitat corridors and nearby wilderness areas in the state and upgrade their status as tiger habitat.

Spots around Mumbai
Tadoba Andhari Tiger Reserve is the largest Tiger reserve in Maharashtra and the closest to Mumbai. Located in the Chandrapur district, it is around 845 km from Mumbai.
What Twitter has to say
Let the story of a tiger not start with 'Once upon a time' ... #InternationalTigerDay #SaveTigers pic.twitter.com/kq4fAK20Us

— Riteish Deshmukh (@Riteishd) July 29, 2017
Today is #InternationalTigerDay. Let us pledge to protect the national animal of India. One of my SandArts. #SaveTiger pic.twitter.com/utsGlVqgMe

— Sudarsan Pattnaik (@sudarsansand) July 29, 2017
Today is #InternationalTigerDay. The day is celebrated to raise awareness for #Tigerconservation. pic.twitter.com/NggD2YPAd9

— All India Radio News (@airnewsalerts) July 29, 2017
Let's try and protect our National Animal and co-exist with this graceful beast in peace and harmony.