BDD chawl residents' burn effigy against corruption on Holika Dahan
Like every other year, this year to residents of Worli's BDD Chawl will be burning an effigy on Holika Dahan against corruption on 12 March.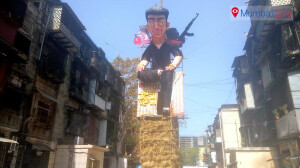 This effigy will be 54 feet tall created by Chandrakant Avghade. For the last 50 years, Veer Netaji Krida Mandal creating awareness during Holika Dahan. This effigy is made by waste products by Veer Netaji Krida Mandal volunteers. Last year, they had prepared an effigy of Vijay Mallya and made their name in the Limca Book of Record.