Devotees throng for Sheetla Devi procession
Sheetla Mata temple committee began their 54th celebrations of Sheetla Devi procession in sion-koliwada which concluded on Saturday. Tamil community performed pooja and offered garlands as well.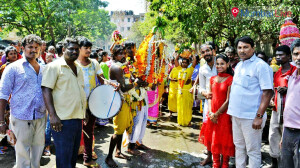 On the last day, temple committee made prasadam and performed pooja by showering milk. The procession was carried out where devotees expressed their faith in Mata Sheetla Devi by performing daring feats. Lakhs of devotees throng the procession to take the glimpse of Sheetla Devi. The procession ended with maha prasad.