Eco friendly Holi celebrations
Humanity Foundation and Abhudaya Nagar Nutan Cooperative Housing Society had organised an eco-friendly Holi 2017 on Monday for the residents of Abhudaya Nagar's building no. 32.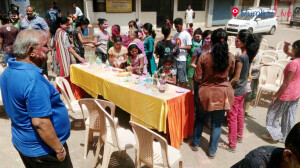 Kids, youngsters, and senior citizens enjoyed the festival of colours. All the members used natural colours to celebrate. An awareness program was organised to educate people to maintain good health.