Followers of Yogi Adityanath celebrate in Mumbai
When Yogi Adityanath was sworn as Uttar Pradesh's CM, followers of him celebrated in Mumbai. Monk Yogi Hirnath celebrated the victory with his followers at Borivali's Gorakshak Dham monastery. Sweets were also distributed amongst the follower. Hirnath believes that after Narendra Modi, Yogi Adityanath is the right candidate for the PM post.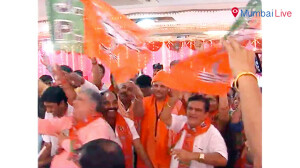 It is said that whenever Yogi Adityanath arrives in Mumbai he resides at Gorakshak Dham monastery. Hence, the followers Adityanath celebrated the victory.