Devotees throng Pimpleshwar temple on Mahashivratri
Bhoiwada – Devotees celebrated Mahashivratri by chanting and offering prayers to lord Shiva. Parel's Pimpleshwar temple is the oldest Shiva temple. On the occasion of Mahashivratri, the temple was decorated with flowers and garlands.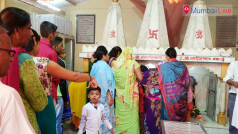 It's a folklore that Shivling appeared beneath the banyan tree at Bhoiwada. People started performing Pooja of it. However, no temple was built of the same. "Finally, in 1998, residents of Patra chawl and members of Om Shiv Seva Sai Mandal built the temple and named it as Pimpleshwar Mahadev Mandir," said Vikas Deshmukh, president, Om Shiv Seva Sai Mandal.