A unique way to celebrate Holi
Mumbai -
Vignharta Sarvajanik Ganesh Utsav Mandal in BDD chawl 76-77, in Worli every year organize Holi celebration. This year, the mandal has come up with a unique idea of making Holi against the offenders.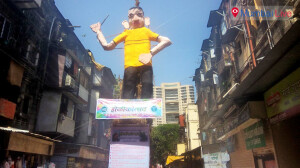 Police constable, Vilas Shinde lost his life in an attack by a criminal. The mandal has condemned the attack on police. And to condemn the attack, the mandal members have made a huge 51 feet effigy of the of the criminal. The effigy of the murderer will be burnt by the family members of deceased constable.
Mandal worker Ramesh Dhule said that to spread awareness that the bad deeds give out a bad result. Every year they come out with different ideas to celebrate Holi.