Matunga's this food center serves needy with 10 rs worth food packets
Raj Roti Center is the only center at Matunga where needy people gets to eat food in only Rs. 10. Here, people who earn less than 5-8 thousand salaries, gets a food packet worth Rs. 10. This food packet consists of six chapatis, sabzi and one banana. This center runs from 11 am in the morning to 1 pm and in a day they serve 30- 40 people.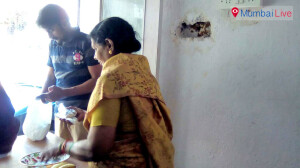 Raj Roti Center was established in May 2016 by five women. Now, 10 women take care of the center and the needy. "Our motto is to help needy by giving them healthy food. We are lucky that we got help from many people," said Swati Kamdar, organiser.