Mumbai High Court raps striking resident doctors
Mumbai -

Resident doctors at civic hospitals in the city, who went on mass leave to protest the increasing number of attacks by patients' relatives, have been pulled up by the Mumbai High Court.
The Court has directed the doctors' association, Maharashtra Association of Resident Doctors, to ensure that the doctors resume work with immediate effect. Non compliance of the directive will be construed as contempt of court, the High Court has noted.
The court has reminded MARD of its earlier promise that the residents would not resort to a strike. The High Court has now directed the hospital administration to take appropriate punitive action if the resident doctors who have gone on leave, do not resume work immediately. The court has meanwhile, also directed the civic administration and the state government to ensure that adequate security measures are in place to ensure doctors' safety.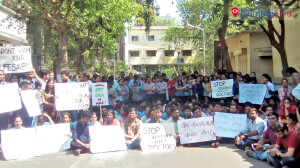 The resident doctors have been protesting since Sunday, when a differently abled resident doctor was manhandled by a deceased patient's relatives. The doctors held a candle march and struck work on Monday. The court has observed that patients, who avail the facilities at the municipal hospitals, have had to bear the brunt of the protest.
Read here-
https://www.mumbailive.com/en/around-you/sion-hospital-resident-doctors-on-strike-9283
Meanwhile, the civic administration has taken immediate steps to ensure additional security and safety measures at civic hospitals. BMC commissioner Ajoy Mehta called an emergency meeting of civic officials yesterday and chalked out measures that would improve safety for doctors at civic hospitals.
Read here -
https://www.mumbailive.com/en/city/entry-passes-in-hospitals-compulsory-or-else-criminal-offence-9320