Watch out for these 5 Gen Next designers at Lakmé Fashion Week Summer/Resort 2018
LFW Advisory Board this year have selected Anvita Sharma and Asit Barik, Ayushman Mitra, Looms of Ladakh, Mohammad Mazhar, and Helena Bajaj Larsen as Gen Next designers for this edition
Mumbai -
Every year, India's most followed and respect fashion event, Lakmé Fashion Week, gives an opportunity to budding designers to present their collection to the stalwarts of the fashion ecosystem, in order for them to make a mark and fly high in this dynamic industry.
This year too, the organisers have announced the twenty fifth batch of its Gen Next designers who will showcase their creations at Lakmé Fashion Week (LFW) Summer/Resort 2018.
Over the years, the Gen Next Designer Programme has produced fashion superstars like Rahul Mishra, Nachiket Barve, Masaba Gupta, Kallol Dutta and Aneeth Arora, among others, is geared up to groom its 25th batch of five promising entrants.
Anvita Sharma and Asit Barik, Ayushman Mitra, Looms of Ladakh, Mohammad Mazhar, and Helena Bajaj Larsen have been selected as LFW Summer/Resort 2018's Gen Next Designers
The winners were handpicked in a recently held meeting, by the prestigious LFW Advisory Board which included - Jaspreet Chandok – Vice President and Head - Fashion, IMG Reliance; Purnima Lamba – Head of Innovations, Lakmé; Nonita Kalra – Editor, Harper's Bazaar; Narendra Kumar – Fashion Designer; Dr. Darlie Koshy – Director, National Institute of Design, Ahmedabad; and Mehernaaz Dhondy – Editor; Grazia India, Pradeep Hirani – Chairman, Kimaya Fashions; Sangita Kathiwada – Proprietor, Melange and Namrata Zakaria – Columnist.
Announcing this batch of Gen Next designers, Purnima Lamba, Head of Innovations, Lakmé said "The Gen Next programme at Lakmé Fashion Week has become the benchmark for the 'future of fashion'. It has mined many gifted designers season after season, and we are excited to see what the young talent has in store for us this Summer/Resort 2018."
Jaspreet Chandok, Vice-President & Head- Fashion, IMG Reliance further added that, "Some of India's most acclaimed designers have been launched through our GenNext program. This program is a testimony of Lakmé Fashion Week's continued effort towards nurturing fashion over the years and shaping the future of the industry in India. The 25th batch comprises a promising young group of designers with individualistic qualities who are sure to follow in the footsteps of their predecessors."
Here's everything you need to know about these five Gen Next designers:
Anvita Sharma and Asit Barik
Anvita (27) and Asit (30), from New Delhi, are design graduates from Istituto Marangoni, Paris and have worked with designers like Rick Owens. The designer duos' ambition is to craft artisanal and fluid garments that stand apart for their faultless clean lines, careful detailing and easy silhouettes. They aim to produce genderless and sustainable design that narrate a strong story while serving a purpose. The highlights of the collection comprise a wide range of fabrics from Suiting Cotton to Silk Organza, Applique embroidery and intricate thread hand work.
Ayushman Mitra
Anushman Mitra (27) from Kolkata is the founder and creative director at Bobo Calcutta, and communications graduate from St. Xavier's College. He has been painting, exhibiting and selling since 2010. Along with this, he is also popular as a set designer for NH7 and as a costume designer for pop band 'Ganesh Talkies'. He is also the The collection is loud and unapologetic. The prints have been developed from paintings and feature graphics that symbolize the liberation of love and sexuality.
Looms of Ladakh
26-year-old Padma Raj Keshri from Ara, is a double graduate from National Institute of Fashion Technology and National Institute of Design. He has created a sportswear collection at Wool Runway for Woolmark India and has showcased his designs at several platforms. The Summer/Resort 18 Collection is inspired by organic modernity of Ladakh. The collection is developed from the materials like Pashmina and Yak wool in the purest form, from the villages of Leh.
Mohammad Mazhar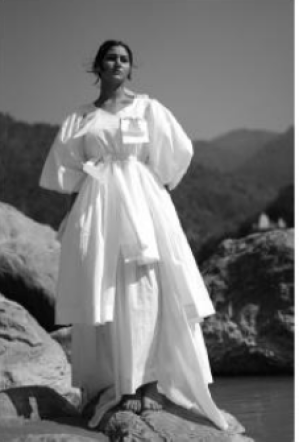 A Fashion Design graduate from INIFD, Mohammed Mazhar (27) from Saharanpur, has worked as an assistant designer with the likes of Priyanka Khosla and Abraham & Thakore. The designer has also founded his own label under the National Employment Scheme. The collection for LFW is inspired by 'Dhobighat'. The designer aims at bringing together artisans who indirectly contribute to the fashion industry. The collection sees the use of self-developed, bhalwa prints that are crafted by washer men using 'Marking Nuts'. Fabrics used include cotton, lawn and malmal.
Helena Bajaj Larsen
Born and brought up in Paris, Helena (22), is a graduate from the Paris School of Design. Her work specializes in Textiles and Jewellery. The fabrics used encompass a variety of Khadi silks (raw, Semi raw, pure, satin, organza), sourced in India and hand-painted using acid and pigment dyes - a technique she has been working with for many years. The collection aims at making craftsmanship synonymous with luxury.