Meet Bandra's very own "Helmet Girl"
Mumbai -
When I heard about a certain "Helmet Girl" in Bandra, I was quite amused by the name. I then decided to meet this girl to know more about her. As per our discussion, I went to Bandra and called her. She arrived on her scooter with the helmet on. "Hop on", she said and the ride began.
Carefree, confident and positive, Lisa Sadanah is the "helmet girl" I was talking about.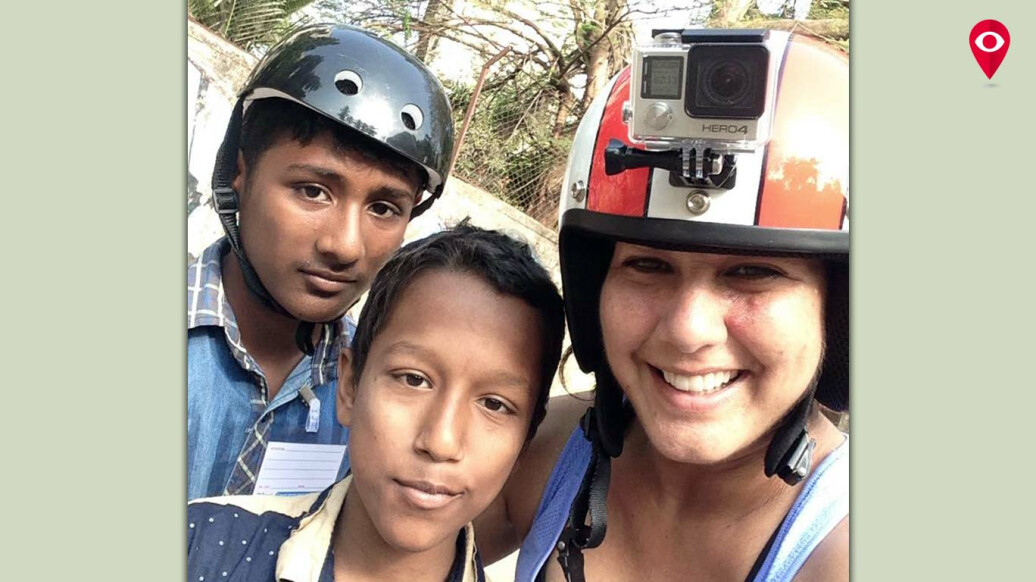 We relaxed in her Bandra's cozy and humble apartment where she shared her story on how she came to limelight as Bandra's "helmet girl."
I love bikes

"I have been riding bikes since I was 10. When I was in Sri Lanka, there was no law back then with regards to wearing a helmet. By 12, I was riding motorcycles. In the year 1985-86, Sri Lanka was at war and police didn't bother to look at us.
When I was 15, I learned to ride XR and XL bikes which have huge suspensions. Then there were no laws on wearing a helmet and there was a reason. LTTE people used to come to Colombo on bikes with their machine guns and used to kill people. They were also known as suicide riders. Seeing this massacre, they banned the use of helmets.
In 1990, I was sent to Pune for my further education. I was a wild student and parents decided to send me away. When I came to Pune, it was a biker haven. There I met another friend Dorais Dorabjee who owned an RD 353 and he used to lend it to me. I met another friend Mandy who owned an RX bike. In Pune, girls used to race with boys and not used to wear helmets. This was in 1889-90.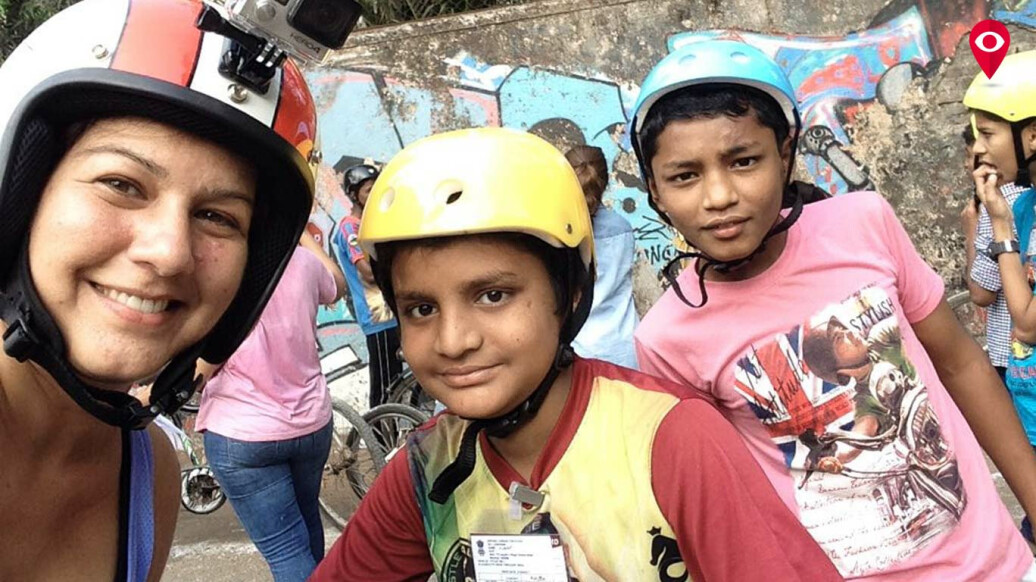 I learned from accidents

I had a series of road accidents. First one was in Sri Lanka, second in Pune with my girlfriend Justine who got injured and bore 20 stitches on her head. I got away with minor injuries. The doctor told us that Justin could not have got stitches had she worn a helmet. The third and most recent accident I had was with my daughter Leia four years back. I was riding a bike without wearing a helmet and we were riding in a one way when an auto came and hit us from the front and I had to skid and Leah broke her left arm. She was just 6 when this happened. I understood fear because until then, I learned nothing from my accidents because I had nothing to lose. You get to feel fear when you realise that you can lose your loved one. I have done stupid things like drinking and driving but that's all in the past. The moment I decided to create awareness, I understood you should be true to yourself."
Lisa Saldanah started visiting supermarkets, schools, public places wearing a helmet and creating awareness about road safety.
I make students aware of road safety as they understand the repercussions and they tell their parents to follow the same," said Lisa.
Lisa will be sharing space with singer Shaan in a music video titled 'Vaishnav Jan' which will feature five people who have created awareness and Lisa is one of the five. She will also be participating in Daan Utsav which is celebrated as a 'Joy of Giving' - which is celebrated over a week- where many individuals come forward and donate to people in need. Lisa added that Shaan also lost his close childhood friend six months ago because he was not wearing a helmet.
Lisa's super active children Leia Sadanah and Angath Sadanah help her in creating awareness. Her husband who is a well-known actor turned film-maker, Kamal Sadanah, too helps her in making awareness videos. This is one such video which talks about the road safety.
If Lisa can, so can we follow road safety rules and regulations. If you find someone talking on the phone while driving or riding, try and stop them. Follow the traffic rules and stay safe, Mumbai.