Artist Swati Roy depicts human life through her paintings
Fort – The painting exhibition has been organized in the playground near Ador house of Kalaghoda by an artist Swati Roy. She hails from Kolkata. She has put up in total 19 paintings which speak about different forms of human.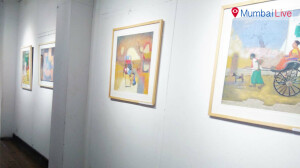 "If I get a good response, then definitely I will donate some of my earning to one of the NGOs," said Swati Roy. This exhibition began on 6 March and will end on 12 March.