Razzberry Rhinoceros re-opens today after a decade
Mumbai -
In the 1990s, this sprawling place in Juhu gave people what they now call-partygoals. It acted as an incubator for several emerging rock bands and was 'the' place to be seen chilling out.
Razzberry Rhinoceros. which is opening its gates for patrons after a long 10 year hiatus, will open for business this evening. In a complete new avatar, it has been transformed from the once-grungy space it was within the Juhu Hotel into a sleek, brightly lit beachside eatery and lounge.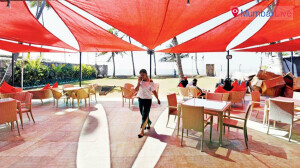 The Razz's owner Neeren Tewari told media, "The idea is to reinvent it as an all-day dining space, with emphasis on food and service. It will be divided into zones, and each one will be utilised for different purposes."
The new menu has been created by chef Ranveer Brar. We hear the bistro will serve Mediterranean fare while the deck will have grills and a root-to-fruit cocktail bar. Although Razz was mainly associated with live rock music its earlier avatar, its version 2.0 will host various cultural events as well .As veteran jazz guitarist Joe Alvares told Mumbai Live, "It feels like I am back in my teens swinging to music with a beer in my hand."
Razz was started in 1993, in an age when there were few spaces in the city available for live gigs. However, the owners could not sustain the business model and Razz downed shutters in 2007, turning itself into a banquet hall. The Rhino however continued to stay alive in Mumbaikars' imaginations, despite the rise of venues like Blue Frog and Hard Rock Cafe. The Razz is now back in all its glory and it feels like a piece of Mumbai is back where it belongs.