Spring in Mumbai's step - these flowering trees herald the turn of season in city
The rising mercury may make you believe that summer is already here. But the trees in Mumbai know the seasons better. Spring is in the air and the bahaava, the bouganvillea and the gulmohur are all strutting about in their finest. The bright blooms offer up their best faces to the searing sunlight in the daytime and glow mellow in the dusk. Mumbai's never looked prettier, if you ask us!
We spoke to horticulturist Vivek Dhuru for a lowdown on the posies that make Mumbai looked like a bejewelled bride on her special day. Next time you are hurtling down the Eastern Express highway or the bylanes of Juhu, take a breather to stand and stare. This time, you will even know what they are called and why!
1) Tecoma Stans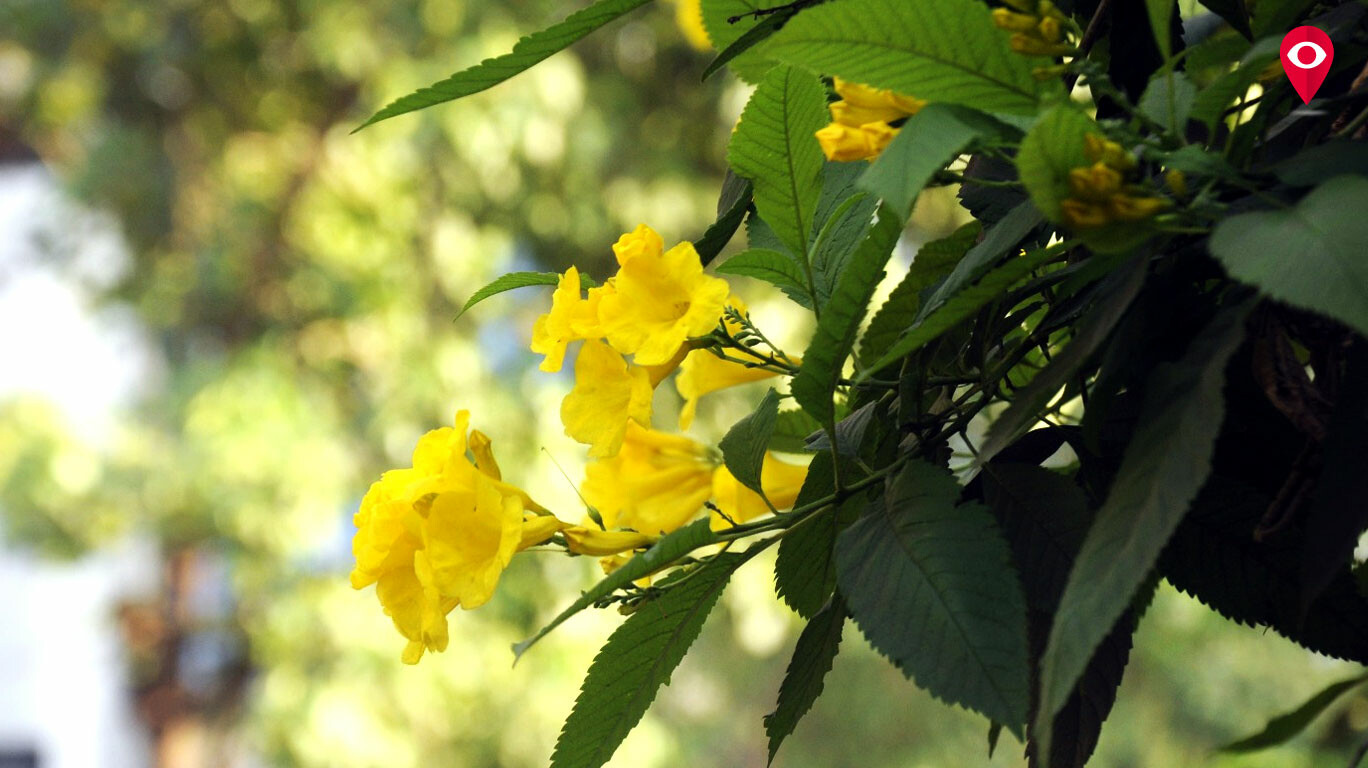 What's it?
Tecoma Stans, also known as 'Yellow Bells' for their obviously bell-shaped structure, are bright yellow and are two inches long. The trumpet shape flower blooms in early summer and stays throughout the year. However, it sheds in heavy rainfall and in cold temperatures.
Is it a tree? - No, technically, it's a shrub
Where can I find it - Dadar, Mahim, Dadar to Santacruz
What's it called locally? - Hindi- Piliya | Marathi- Ghanti ful
2) Caesalpinia Pulcherrima Plant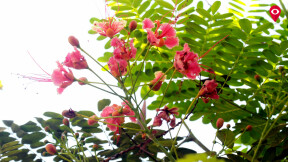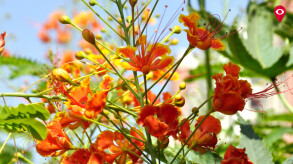 What's it?
These amazingly pretty flowers, also known as peacock flowers, appear in spring on trees that grow to a height of about 3 metres. These flowers are smaller in size as compared to the Gulmohar and have long stamens and pistil. These plants are usually seen near residential places as they enhance the surroundings considerably. The most common colour is red-orange but one can also see the yellow variety too.
Is it a tree? - No, this one's classified as a shrub as well
Where can I find it? - western suburbs
What's it called locally? - Hindi: Guletura | Marathi: Sankasur
3) Bougainvillea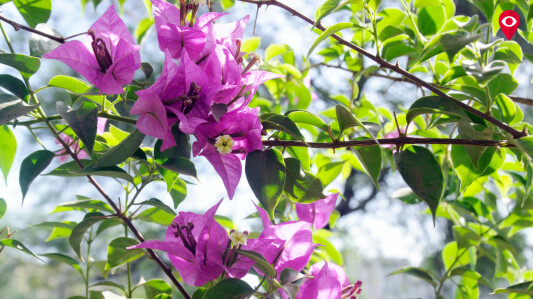 What's it?
These pretty fragile blooms that can be spotted on compound walls across the city, as well as dividers on major roads in Mumabi, was named after Louis de Bougainvillea, a French navigator who came across it in Brazil during the 18th century. It blooms eight months, except in the rains. You can spot the bougainvillea in full bloom right now in pink, yellow, purple and white. It is also known as a climber as it climbs over the fence and makes a fantastic topiary. Most suburban villas in the city are covered in this Brazilian import right now. A postal stamp was issued by the Indian Postal Department to honour this flower.
Is it a tree?– Nope, this is a shrub too
Where can I find it? - Sane Guruji Udyan near Siddhivinayak temple, University road, Fort
What's it called locally? - Hindi: Booganbel | Marathi: Booganvel
4) Cassia Fistula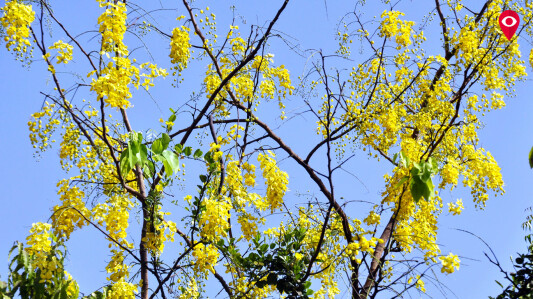 What's it?
This is a breathtakingly beautiful bloom that flowers unexpectedly overnight and covers the tree with its dazzling yellow flowers and vanishes equally quickly in a few days. Few know that it is during the shedding phase that this tree bursts into long yellow gold flowers. When it is not in blooming season, it is infested with insects and is in no condition to give shade to the passerby. There are exceptional Bahaavas that are white in colour. One particular specimen awaits you at Rani Baug ( Byculla zoo).
Is it a tree?– This ones classifies as a tree
Where can I find it? - IIT Powai campus, Godrej Campus, Vikhroli
What's it called locally? - Hindi: Amaltas | Marathi: Bahava
5) Ricinus communis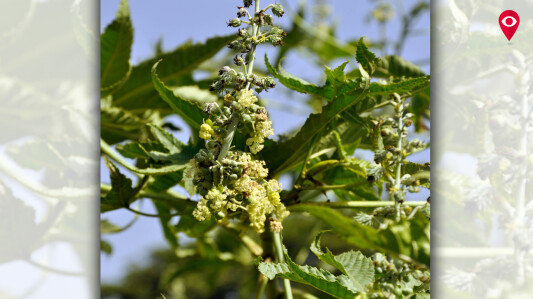 What's it?
These delicate blooms belong to a tree that is usually not planted but comes up on its own. The Castor Bean plant grows up to a height of 30 feet and blooms in bunches of flowers that are white and pinkish in colour. The seeds of the castor bean can be poisonous if consumed. Castor oil extracted from the beans is used for medicinal purposes.
Is it a tree?– It may grow up to 30 feet, but it's still a shrub
Where can I find it?– Along the central and western railway lines
What's it called locally?– Hindi- Arandi
6) Dolonex regia
What's it?
Called the world's most colourful tree, the Gulmohar is Bombay's own although is said to have been discovered in the early 19th century by botanist Wensel Bojer. It only blooms by the April end and in May. The Gulmohar grows to a height of 30-40 ft tall and is elegant looking. It is widely cultivated as a street tree. Remember Gulmohar lane in Juhu?
Is it a tree?– Very much so
Where can I find it? – Across Mumbai
What's it called locally? – Hindi: Gulmohar
7) Mussaenda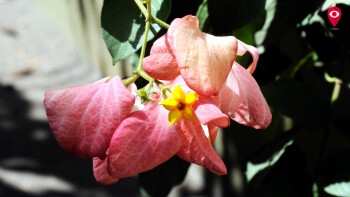 What's it?
It is also known as Dhobi Tree, don't ask us why. It fully blooms in the month of April. Post-April, it has flowers but in fewer numbers and these will stay throughout the year. These flowers are seen in White, Pink and Red varieties.
Is it a tree?– No, it's a shrub
Where can I find it? – Hiranandani garden, Byculla zoo, gardens in Mumbai
What's it called locally? – Hindi: Bedina | Marathi: Bhutakesha
8) Peltophorum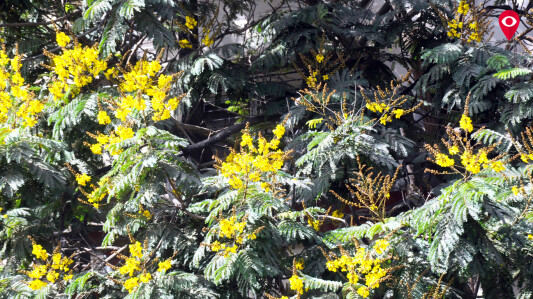 What's it?
This flower blooms twice a year between September and April. It gives a striking yellow and red effect in the Mumbai summer. It is believed that no native bird except the crow builds a nest on this tree as it is considered a foreign tree.
Is it a tree?– Tree
Where can I find it? – Across Mumbai
What's it called locally? – Hindi - Peela gulmohar
Pictures by - Ganesh Rahate