RPI protest against the murder of Krishna Kiravle
Mumbai -
Senior Ambedkarite Dr. Krishna Kiravle was hacked to death at his Kolhapur's residence. The Republican Party workers carried out a protest at Azad Maidan on Monday. This protest was led by Ramdas Aathawle faction group's president Sona Kamble.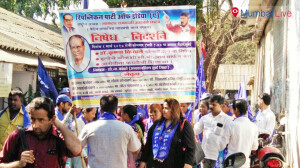 During a protest, RPI party workers demanded that CBI should investigate the murder and the murderer should be hanged till death. During this protest, Republican Party workers were present in large numbers.
Kirvale belonged to Beed district's Sirsala and had completed his education from Aurangabad's Milind College. He had also written a book on Dalit movement.