Stand united says Padmashree Kranti Shah
Mumbai -
Rashtriya Mill Mazdoor Sangh had organised an award function at Mahatma Gandhi Auditorium Parel to honour the awardees with GD Ambedkar Lifetime Achievement award and Shram Gaurav award at Parel East, on Monday.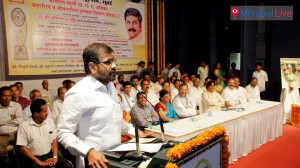 On this occasion Padmashri Kranti Shah, the founder director of Yuvak Biradari, who was present as the chief guest. He said that, today people are still playing politics in the name of the caste and racism. Poor farmers and labourers are exploited but no one comes out to support them.
Only people like GD Ambedkar, SA Dange, Peter Alwaris, P D'Mello and NM Joshi had fought for poor people, farmers and labours. Youth should be united and move forward in life as strength is in unity.
On this occasion, NCP Mumbai president Sachin Ahire, General Secretary Govindrao Mohite, and Vice President Bajrang Chavan were present.