Will not let GVK to take over gaonthans, says residents
Mumbai -
In 2007, GVK had applied to Mumbai's collector to take over three gaonthans of Sahar village namely Sutari Pakhadi, Tank Pakhadi, and Our Lady of Health. However, then residents of gaonthans who were unhappy with the idea, were told that the application has been cancelled. However, now after 10 years, residents of gaothans got to know that the application was never called off.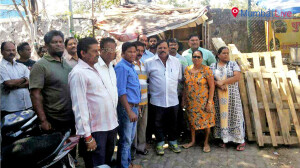 Former corporator Nicholes Almeida has alleged that GVK is trying to take over the gaonthans as the latter have received the notice of survey which will begin in March 2017. However, residents of gaonthans are in no mood to give up the land.
On 5th January GVK proposed collector to take over gaonthans for the extension of the airport.