Muslim community stages protest against terror attack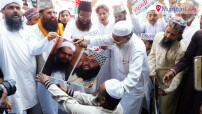 Masjid – In order to protest against terror attack which took place at Pakistan's Shahbaaz Kalandar, Sunni Muslims protested outside Masjid by shouting slogans. During this protest, an effigy of Haffiz Saeed was burnt.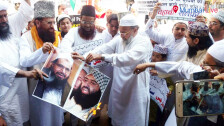 They also shouted slogans against ISI terror unit and were holding placards which stated that people should reunite to fight back the terrorists. Raza academy had organized a protest and more than 50 Muslims had participated in the protest.