Winners of powerboat racing will get part of 'Viraat' as a trophy
P 1 Powerboat Racing competition kicked off on Friday where brothers Sam Coleman & Daisy Coleman of Booster Jets Boat A have entered in the second round which will take place on Saturday. These fierce brothers were competing against James Norvill & Christian Parsons Young of Marins Boat A, who came second in the race. Meanwhile, C S Santosh who was representing India came ninth in the race while Gautav Gil came seventh.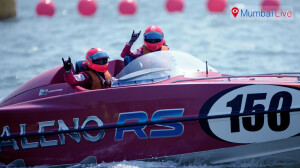 'Viraat' trophy
Though Viraat ship will bid good bye on 6 March, it will keep inspiring others in its own various ways. The winners of – P 1 Powerboat Racing competition will get the trophy made of none other than 'Viraat' steel.