Sisters Vidhi and Saumya establish a world record in skating and basketball dribbling
Mumbai -
Mumbaikars Vidhi and Saumya Aggarwal created a world record in skating and basketball dribble on October 2 while spreading a message of Beti Bachao, Beti Padhao, Beti Badhao and 'Save Water'.
These sisters began skating from the Opera House signal and concluded near the Air India building. The event was inaugurated by Mumbai's mayor Vishwanath Mahadeshwar.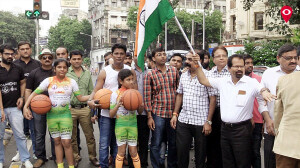 Nine-year-old Saumya and 11-year-old Vidhi completed their 5 km skating in mere 29 minutes and 30 seconds for which they were practising for the last six months by waking up at around 4:00 in the morning.
How did it all start

Professor Rishi Sarode, who is known for establishing world records, was attempting a world record in skating on May 1, 2017. During this event, Vidhi and Saumya who were present became impressed and decided to make a world record under the guidance of Sarode.
Their Mother motivated them

Vidhi and Saumya dedicated all the success to their mother Kanchan Aggarwal who not only backed them but motivated them as well. She saw to it that they follow their regime and also stood with them in rains when they practised.
I am glad that these two were enthusiastic to participate. With their support, we could complete this world record. In the near future, we will try for more records, for sure," Rishi Sarode, Teacher.