Vaishali Salavkar starts with a draw
Mumbai -
Mumbai's Vaishali Salavkar made a good start at the IBCA Chess Championship for the Visually impaired when she drew her first round against a higher rated Bappi Sarkar of Bangladesh. Bappi Sarkar's rating is 1809 whereas Vaishali's rating is 1431. Both Vaishali and Bappi scored half a point each drawing after 38 moves. Another Mumbaikar, Swapnil Shah will take on Arthur Letim of Nepal on board no 7 in his first round. Swapnil is also a chess coach and works with the MMRDA. Vaishali is a homemaker and has started training young visually impaired children.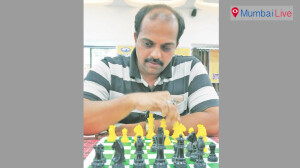 Shirish Patil of Thane also won his first round beating Hiriyamulla Vithangeof Sril Lanka in 31 moves.
The IBCA Chess Championship for the visually impaired is being played at the Udupi campus of Manipal University from 22nd-31st March.