Piyush 'Santa' Goyal gifts Mumbaikars their first AC local this Christmas
Mumbai's much anticipated first AC local runs between Borivali and Churchgate around 10:00 am.
Mumbai -
The long-awaited dream of travelling in an air-conditioned local has become a reality for many people in the city, as railway minister Piyush Goyal, on the occasion of Christmas, inaugurated the first AC local ran on Western Line which ran between Borivali and Churchgate around 10:00 am.
As promised weeks back, Mumbai's AC local is finally on track. After the introduction, it was announced that around total 12 services (6 services in up and 6 services in down) of AC suburban train will be operated only on weekdays. Over the weekend the trains will undergo maintenance and hence will not be operated. However, the situation may improve in the coming months.
According to Ravinder Bhakar, PRO, Western Railway, 12 AC local services will replace 12 non-AC services so the total number of locals on WR will remain the same, which as per record would be around 1355 services.


Some key points to be noted
8 trains will run as fast locals between Churchgate & Virar, which will halt Mumbai Central, Dadar, Bandra, Andheri, Borivali, Bhayander and Vasai Road, in both directions.
3 fast services have been scheduled between Churchgate and Borivali, which will halt at Mumbai Central, Dadar, Bandra and Andheri stations, in both directions.
Remaining one service will run as a slow service from Mahalaxmi to Borivali, and will halt at all stations.


Fare structure
The fare for AC local is comparatively higher than that of the 1st class tickets of a normal local. However, unlike the other train, AC local tickets will also be available for weekly and fortnightly durations. Currently, the service will run only until Borivali, but going ahead it will be extended until Virar. Here is the fare structure of the train.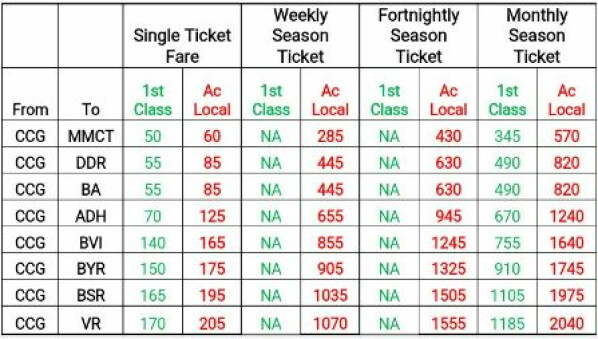 Sharing more information, Western Railway tweeted the details of the local.
First AC Local on WR will be introduced/run from Borivali on 25th Dec. 2017 at 10.30 hrs for Churchgate. On trial basis, it will be run between Churchgate-Borivali from 25th-29th Dec. It will run between Churchgate-Virar from 1st Jan 2018 as per fares & time table given below - pic.twitter.com/7EumVAP3yY

— Western Railway (@WesternRly) December 24, 2017