Pack Your Bags and Get Ready for a Fancy 'Mumbai-Goa' Ride
Mumbai -
Good news, Mumbaikars, 'Tejas Express', the luxurious train from Mumbai to Goa, will start operating from May 22. This train could set a fancy tone to your vacation as it has a number of technologically advanced features. The 20 coach train will have secured gangways, automatic doors, and multiple new features. The coaches are said to have bio vacuum toilets, tap sensors, water level indicators, hand dryers. The train is said to run at a speed of 130 kmph and would cover the distance in 10 hours 40 minutes.
Hang on, the train will also have LCD screens, tea and coffee vending machines, a snacks section, magazines and wait for, WiFi!! Now, all you social media addicts have an additional reason to take this train and enjoy Netflix and chill. The fares are estimated to be around 30% more than Shatabdi Express. Though the pricing hasn't been made official yet.
The train (11209) will run five-days-a week (except Monday and Thursday) and will depart from CST, Mumbai at 00:20 am and reach Karmali, North Goa by 11:00 pm and depart from Karmali (11210) at 12:20 pm and reach CST by 23:45 pm. This is a tentative time schedule and it is very much possible that it could change.Tejas commuters will have to spend around Rs 2,680 for first AC compartment and Rs 1, 680 per person for Chair Car compartment.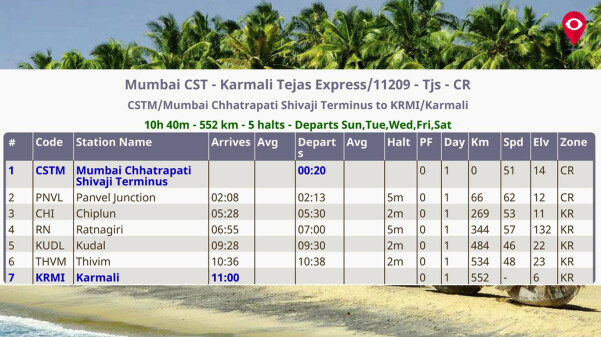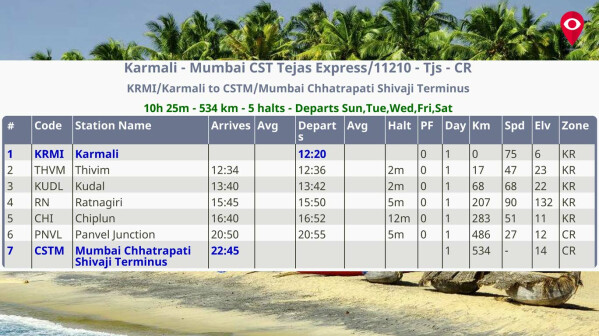 Pack your bags and get ready for Goa. One thing can be assured, this train will definitely take you to Goa in style.