An exhibition of cartoonist's paintings
Mumbai -
Dadar –Number of cartoonists are less all over the world and this is due to lack of school or institutions which can teach cartoon drawings.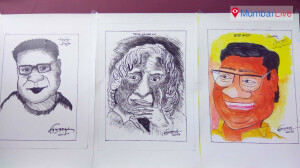 In order to bring out more cartoonists, Swantraveer Savarkar Smarak organizes a workshop on every Sunday form 5.30 pm to 7.30 pm. Since three years, this workshop is being conducted. Not only this, but selected cartoons are put up for the exhibition.
This year too, Swantraveer Savarkar Smarakhas organsied an exhibition of cartoons which will take place from 24 to 26 February. This exhibition has no age bar as one will get to see cartoons drawn by small children to senior citizens. "I started this workshop so that I could help out people who love to draw cartoons," said Vikas Sabis, cartoonist.