Guru Dutt Mandal burns effigy in name of BMC
Guru Dutt Mitra Mandal burned an effigy of octopus on Holika Dahan at Sion-Koliwada by giving out a social message. This mandal took one month's time to create this effigy which depicted civic issues. This effigy was 10 feet tall and 15 feet wide made of bamboo, cardboard, paper, and water colour.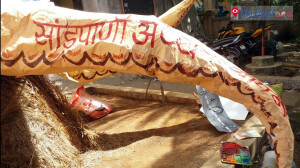 "This year we tried focusing on civic issues which people face every now and then, so be it water woes, slums, road scams, and waste segregation," said Siddhesh Kavatkar, spokesperson, guru Dutta Mandal.