Two kids drown in water pipeline burst in Bandra
Mumbai -
Two siblings, one of them an eight month old boy, drowned when a 72 inch water pipeline burst at Behrampada at Bandra east on Friday morning.
The 1800 mm Tansa pipeline near the Bandra Terminus burst around 11 am this morning. Water flooded the streets and entered local residents' homes. Local civic ward staff, central agencies water staff rushed to the spot. The two children, nine year old Priyanka Doiphode and her eight month old brother Vighnesh, drowned in the deluge, it is learnt. Sources say Vighnesh was rushed to the Bandra Bhabha hospital but was declared dead on arrival at 11.45. Priyanka was taken to the V N Desai hospital in Santacruz and was declared dead on arrival at 11.50 am.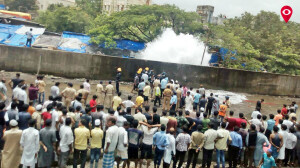 The water valves have been closed and repair work will be initiated once the water abates, according to deputy municipal commissioner Ramesh Bamble.
Water cut in the city
The work of joining the Marol - Ruparel tunnel has commenced this morning. A water cut has already been imposed in several parts of the city in view of the exercise. An estimated 10 crore litres of water has been wasted due to the pipeline burst. Mumbai gets an average of 375 crore litres of water every day. This pipeline brings in filtered water from the Tansa lake, which is further disbursed to reservoirs in the city. Areas which have been alerted with a water cut till Saturday morning, may have to tighten their belts a bit more.