A dog's life - Lovers' tiff takes a toll of canine
Mumbai -
An innocent dog that tried to intervene and save his owner's life during a lovers' spat ended up paying for his loyalty with his life.
His alleged killer, a 20 year old youth from Antop Hill, has been arrested under section 429 of the IPC and released on bail. According to the police, Vyankatesh Chellappa Devendran, a resident of Makkawadi on HM Road, Sion Koliwada was in a relationship with Jyoti, a girl in his neighbourhood. However, her sister Rosy was opposed to the match. On 9 April, both families got into a spat over the issue, and things got so heated up that Vyankatesh drew a knife and rushed to attack Rosy, who fled into the adjoining lane and rushed into the house of another neighbour, Sumati.
Vyankatesh followed her with abuses and the knife and was accosted by Sumati at the door. The scuffle between the two attracted the attention of her pet dog Lucky who sprang to her defence. Lucky bit Vyankatesh's ankle and the infuriated youth retaliated by stabbing the dog in its stomach.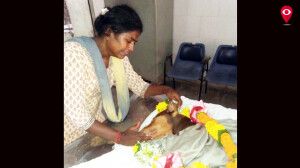 Vyankatesh fled the scene, even as Sumati rushed the dog to the animal hospital at Parel, only to have Lucky being declared dead on arrival. Sumati lodged a complaint with the Antop Hill police, insisting that he be meted out the strictest punishment possible. The Antop Hill police arrested Vyankatesh and released him on bail on Thursday.