Extortion case registered against Nitesh Rane
Mumbai -
A case of extortion has been registered in Santacruz police station against Nitesh Rane. An owner of a hotel has levelled the charge of extortion against Rane and claimed that he forcefully closed his hotel by sending goons after he stopped paying the extortion money. Police have arrested Moin Shaikh (36) and Mohammed Ansari (36) in this connection. The main accused, Nitesh Rane, has however gone absconding.
According to the police information, the complainants namely Hitesh Keswani and Nikhil Mirani had started their restaurant 'Estella' on Juhu Tara Road. They had started the beautification work of this restaurant when Nitesh Rane approached them saying that how is it that they started the renovation of the hotel without seeking his permission in 'his area'. Rane then allegedly started to pressurise them after which he got into a partnership with the restaurant owners by paying a very less amount to Keswani and Mirani.
The restaurant was started in December 2016. As it got into loss, the associate of Rane cancelled his partnership and asked the other partners to deal with Rane himself. Rane then allegedly asked the restaurant owners to pay him Rs 10 lakh per month to let their enterprise function smoothly.
As per the complaint, Keswani paid Nitesh Rane the extortion amount from January to May but informed him that it would not be possible for him to pay the extortion from June.this got Rane quite infuriated and went to Keswani's restaurant and started abusing him.
On the other hand, Rane in a letter to Ajoy Mehta Commissioner of the Mumbai Police, stated that he only had objections to the loud music and traffic caused by the hotel since a lot of residents have been constatnly complaining to him about it. He further added that he has written a letter to the BMC Commissioner in April about the problem caused to the local people and has already requested the concerned authorities to take an action against the said restaurant.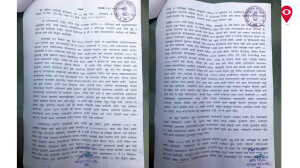 Nitesh further states that he will now take a legal action against the restuarant.