Four houses in BDD chawls burgled in single night
Mumbai -

In a sassy move, a thief, or perhaps a gang of thieves, broke into four different houses in Sewri's BDD Chawls complex and made away with valuables worth Rs 3,80,000.

The Rafi Ahmed Kidwai Marg police have registered offences under sections 457 and 380 of the IPC against unidentified persons.

One of the victims of the burglary owns two houses in BDD chawl number 9. Rupees 60,000 in cash and four tolas of gold were stolen from one of the houses, while gold jewellery and 2000 rupees were burgled from the other. From a flat in buildng 11, two laptops were stolen. The thieves attempted to break into another house by breaking the lock on its door.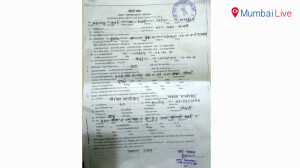 CCTV footage, handed over to the police, shows the thief moving within the building. The police have now launched a hunt for the burglar.