Governor felicitates Usha Mangeshkar on her 81st birthday
Mumbai -
Mumbai – On the occasion of Usha Mangeshkar's 81st birthday, Maharashtra governor C Vidyasagar Rao felicitated the veteran singer at Raj Bhavan on Monday. This felicitation ceremony was organised by state legislature council member Ram Raje Nimbalkar.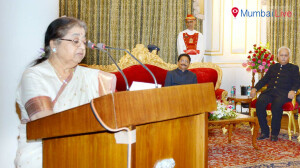 "The Mangeshkar family is an exceptional family whose members, with their singing, have mesmerised not only Indians but foreigners as well. People still have not forgotten the songs sung by Usha Mangeshkar," said Rao.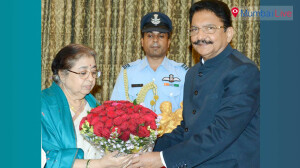 Actor Juhi Chawla was honoured with the Usha Vaibhav award while Indian shooter Tejaswini Sawant was felicitated with the Vaibhav Award on the occasion. Along with state legislature council Ram Raje Nimbalkar, Meena Khadilkar, Reema Lagoo, and other celebrities were present.