Human Library Mumbai is back with round 2 and here are the details...
Mumbai -
Mumbai, a thriving metropolis bears people from various cultures, religions, occupations. You won't find a more diverse city in India! Here, everyone has a story to tell. This city is the epitome of embracing diversity and so it becomes the best place to hold a classroom without walls.
The Human Library is a revolutionary movement which originated in Denmark and now has its presence in more than 70 countries. It was started 12 years ago as an anti-violence initiative. Initially, it was restricted to peer-to-peer discussions about prejudices and violence in the society but today it's a place to bridge the gap between people both inside and outside the ring of prejudices. It is a place where real people as "books" are on loan to readers and where difficult questions are expected, appreciated, discussed and answered.
Human Library Mumbai's first event itself witnessed a foot fall of more than 450 eager readers and the broad selection of 13 books provided Mumbaikars with ample choice to challenge their stereotypes and neutralize their prejudices. The readers took advantage of this opportunity - leaving books, librarians, organizers & readers amazed at the impact of HLM. The librarians found the books to fly off the shelves in the first 15 minutes of registration. The books were off the shelves, not to be restocked by 5:45 pm.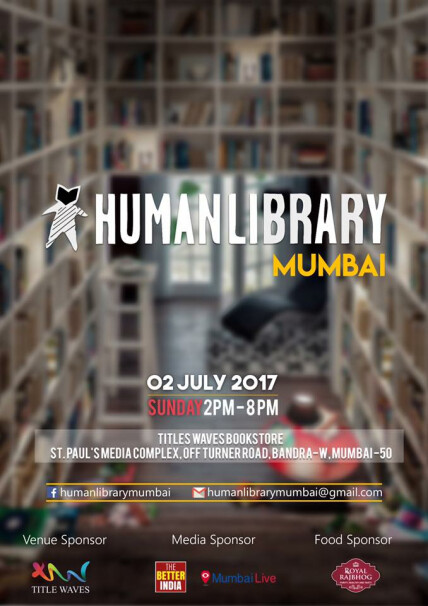 The second event of Human Library Mumbai will be held on Sunday, July 2, 2017, at Title Waves, Bandra. A total of 14 books will be available for the readers, and every book has been carefully selected keeping the aim in mind. As a reader you will come across real life interesting stories of people who have experienced divorce, depression, suicide, molestation, stereotype and many other issues, yet have found a reason to stay strong and happy.
The aim of the event always is to neutralize the negative connotations or stigmas attached to certain situations in our societies. Some of the prejudices covered at the event were gender bias, sexual identity, professional bias, molestation, religious identity and body image.
Human Library Mumbai works towards creating personal dialogue between a 'BOOK' and a 'READER'. Just like any public library, we have 'BOOKS' or people who are at the brim of prejudices and we have 'READERS'- people who are willing to challenge their mental frameworks and listen to their respective books. We tap into various boxes of prejudices like sexuality, occupation, lifestyle, religion, culture etc.
HLM is scheduled to take place every month in the city. More information on upcoming events and for registration as 'Books' or 'Readers' is available on their Facebook page. They can also be reached at humanlibrarymumbai@gmail.com .