Consumer rights awareness by Prayas Sanstha
Mumbai -
On Wednesday, Prayas Sanstha organised an awareness program for the consumers on International Consumer Day.
The definition of Consumer right is 'the right to have information about the quality, potency, quantity, purity, price and standard of goods or services', as it may be the case, but the consumer is to be protected against any unfair practices of the trade. It is very essential for the consumers to know these rights.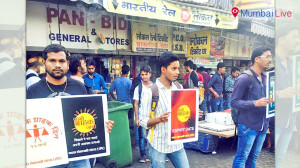 Holding posters, placards with messages on them of how sellers exploit consumers and also educate consumers about their rights.
Prayas Sanstha, General Secretary, Rohit Dhale said that they have organised this awareness program to make the consumer aware of the unfair practices of trade and also to make them understand and be safe rather than falling prey to the sellers.