Second Edition Of IDBI Federal Life Insurance Mumbai Half Marathon In August
Mumbai -
After the successful inaugural edition of the IDBI Federal Life Insurance Mumbai Half Marathon, the second edition is lined up in August. Over 15,000 enthusiastic runners will line up on race day on August 20, 2017. Runners will soak in the architectural delights of aamchi Mumbai, as they chart the course along the famed majestic structures of South Mumbai. The run will be flagged off by face of the event, Mumbai's very own, Sachin Tendulkar from Kala Ghoda on Sunday, August 20, 2017.
Related Article: Sachin Tendulkar Tweets About Mumbai Half Marathon
The enthusiasm and energy seen is incredible; from youngsters to a 70-year- old, each one is motivated to reach the finish line at their own pace. It's not the pace, but the participation that is important and that makes one a true champion. I congratulate the IDBI Federal Life Insurance for taking the initiative to create awareness about the need for a healthy lifestyle. I envision a fitter tomorrow for India. I request everyone to make efforts to keep yourself and your family fit, this will change the nation;will make it fitter, better and healthier." Sachin Tendulkar.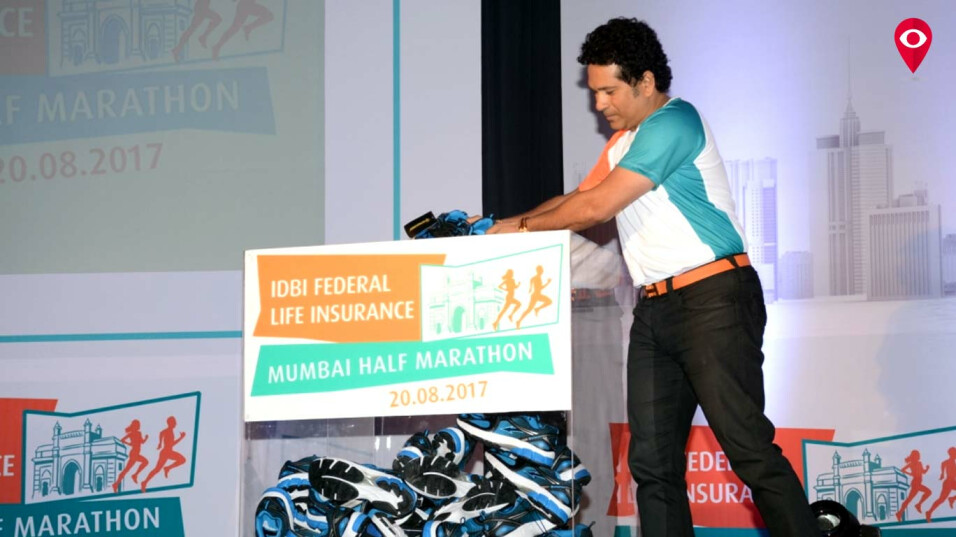 Along with the launch, IDBI Federal Life Insurance announced their support for an initiative in donating shoes. Footwear being an essential requirement for any runner, IDBI Federal Life Insurance in partnership with the Mumbai Road Runners will provide running shoes to talented runners in need of footwear. Sachin Tendulkar kick-started the initiative by donating running shoes to five runners identified by Mumbai Road Runners. Sachin also donated 100 pairs of shoes on behalf of himself and his family to Green Soles with an aim to provide basic footwear to the underprivileged sections of the society. Sachin is the face of all four marathons organized by IDBI Federal Life Insurance Marathons i.e. Mumbai, New Delhi, Kolkata and Kochi.
The registrations have been extended until July 30, 2017. The Expo will be open at Mumbai University, Kalina Campus in Santacruz from August 18, 2017 to August 19, 2017, where participants can come to collect their bibs and running kits.