And that's how rail commuters mark Ashadhi Ekadashi
Mumbai -
Call it the Ashadhi Ekadashi, the Devshayani Ekadashi or the Padmanabh Ekadashi. The essence of the festival being marked in every corner of Maharashtra today is the faith reposed in the state's leading deity - Vitthal.
And if the lord who rules most of the verses sung in the Almighty's praise is remembered today, can the Bhajan Mandali of the local trains be far behind? The Ganesh Pravashi Bhajan Mandal, which celebrates its daily commute to work with 'bhajans' accompanied by taal and mrudung - its essential musical accompaniments - had a special reason to rejoice on Tuesday.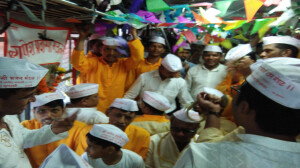 The group has been marking Ashadhi Ekadashi in the 8.15 am Borivali Churchgate local for the last 25 years. Members of the group get in at different stations but are bound by a common faith - that of singing Vishnu aartis till they reach their destination.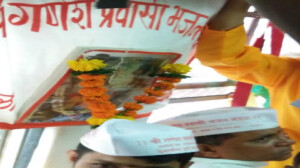 One of the mandali's members Shrikant Shinde told Mumbai Live that they have formed a Whatsapp group where they plan future programmes. Expenses needed for the programmes are divided equally. Curiously, the group does not have any office bearers. Everyone is a member in this faith-bound democratic group.