Youth celebrate Holi with dry colours to save water
Keeping in mind the shortage of water, the members of Achanak Mitra Mandal celebrated the festival of colours with dry and natural colours.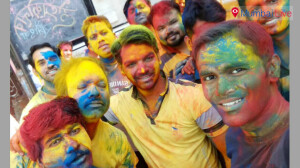 The youth also made an attempt to spread awareness among citizens to use water as much as required and save water. The youth also encourage people to burn all the evils in the Holika. Santosh Kadam, Mahesh Warang, Subhash Kochre, Girish Shivmat, and Rajesh Chorge participated in this awareness program.