Helping Hands Foundation helps cancer patients
Helping Hand Foundation had set up a small market along with Tata Memorial Hospital to fund cancer patients treatment at Lower Parel's Regis hospital. "Whatever profits we will be used for the treatment of children," said Madhavi Goenka, Founder, Helping Hand Foundation.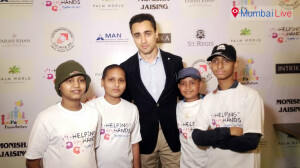 Fashion designers such as Farah Ali Khan, Shreya Som, Seema Khan, Kanika Kapoor, Mitali Vhora, Dolly Sidhhavani, Bhavna Pandey and Archana Rao had kept their designs for sale. This included boots, bags, clothes and other things. Bollywood actor Imran Khan also paid a visit to the market and interacted with cancer patients.