Salvation Army organizes free health checkup
The Salvation Army had organized a free health check-up camp on Sunday at Sion. Five doctors of each Balaji hospital and Somaiya hospital along with 20 volunteers participated in the camp. Here, people got to check their ECG, blood pressure, diabetes, eye checkup, thyroid checkup, physiotherapy, and angiography for free. In total, 144 patients got the benefit of the check up.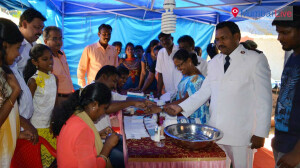 The Congress party's local corporator Ravi Rajan inaugurated the health camp where he himself spoke to the patients and asked the doctors to take good care of them. "We have been organizing such health camps for the last 10 years now. Due to inflation, doctors fees have also increased and so many people avoid going to the clinic as thety cannot afford the fees. So we organize free health check up camp so that more and more people visit the clinic," said Stephen Raj, Salvation Army.