World's smallest pacemaker implanted at Saifee Hospital
Mumbai -
Saifee Hospital has crossed a milestone by becoming the third hospital in Mumbai to successfully perform a transcatheter implant on a 78-year-old patient using the world's smallest leadless pacemaker. The surgical procedure was conducted by Dr. Ali Asgar Behranwala, HOD - Cardiothoracic Surgery, Saifee Hospital, Mumbai and Dr. Yunus Loya, senior Consultant Cardiologist, Saifee Hospital, Mumbai.
A 78-year-old Iraqi resident started experiencing episodes of unexplained fainting. He was brought to the Saifee hospital. He had a history of coronary artery disease and chronic obstructive pulmonary disease and had undergone bypass surgery in the past. When the episodes of dizziness, breathlessness and fainting continued the doctors put him through a few tests and diagnosed that the patient was suffering from Bradycardia. He required implantation of a pacemaker to improve pacing.
Bradycardia is a heart condition in which the heart beats very slowly. For most people, a heart rate of 60 to 100 beats a minute while at rest is considered normal. If one's heart beats less than 60 times a minute, it is slower than normal.
The team of doctors successfully performed the implant procedure to treat Bradycardia with the smallest leadless pacemaker. This leadless pacemaker, which has been approved by the U.S. Food and Drug Administration (FDA), is a new type of heart device that offers the most advanced pacing technology at one-tenth the size of a traditional pacemaker.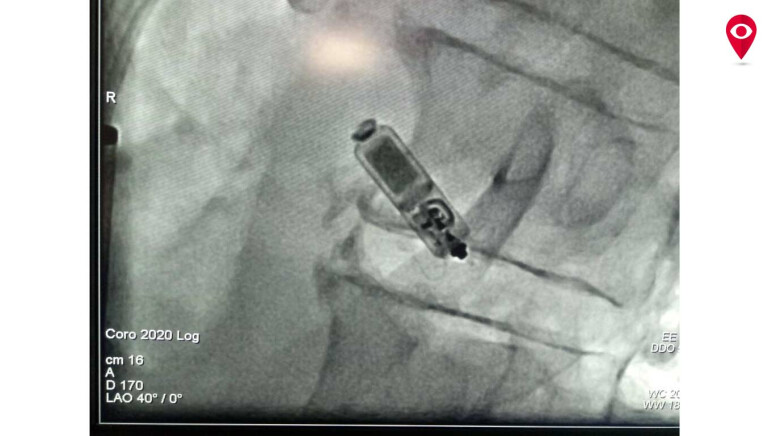 Pacemakers are the most common way to treat Bradycardia (slow heart rhythm) to help restore the heart's normal rhythm and relieve symptoms by sending electrical impulses to the heart to increase the heart rate. The leadless pacemaker is known to be less invasive, self-contained and 93% smaller in size.
"Unlike most pacemakers that are placed inside patient's chest with leads (wires) running to the heart, the leadless pacemaker is implanted through a keyhole sized incision through the groin region into the heart. This is a minimally invasive procedure, reducing the patients' pain and stress considerably. The patient had episodes of fainting due to slow heart rhythms which have improved after implanting the leadless pacemaker. It was a successful procedure and there is nothing more important to a doctor than giving patients a better life," said Dr. Ali Asgar Beheranwala, HOD, Cardiothoracic Surgery, Saifee Hospital.
"It has reduced the complications and risks associated with the routine pacemaker by almost 50%, like lead infection, pacemaker pocket infection, venous obstruction etc," said Dr. Yunus Loya.
The Leadless Pacemaker also incorporates a retrieval feature to enable retrieval of the device when possible; however, the device is designed to be left in the body. For patients who need more than one heart device, the miniaturised leadless pacemaker is designed with a unique feature that enables it to be permanently turned off so it can remain in the body and a new device can be implanted without risk of electrical interaction.