Aarey residents stall Metro 3 work at unit no. 19
Mumbai -
Aarey residents obstruct the construction of car shade and a Metro 3 work which is under construction at Aarey's unit no 19.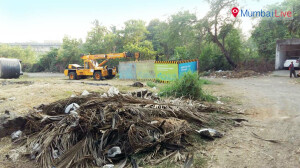 When villagers of unit 19 came to know about Mumbai Metro Railway Corporation officials bringing soil testing machine, they asked the contractors if they have the permission for the same. However, paper shown by the contractor was for other work. Villagers then asked the contractor to return saying that the petition has been filed for the same. Not only this, the villagers also filed a police complaint against the contractor.
"We will not let the contractor do the work as it is illegal, it has not got any permission," said Stalin Dayanand, director, Vanshakti Prakalp.