'Street Stores' brightens the day of poor people
Dharavi – In order to help poor people, IDBI Federal Insurance and LEO club had set up street stores on the streets of Dharavi. Here, poor people were helped with clothes and shoes. Right from senior citizens to small children, everyone was benefited.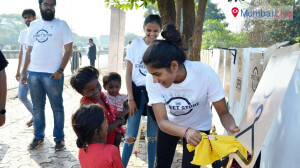 This all started when LEO club asked various offices to keep their used or unused clothes and shoes aside for poor and needy people. "We had always thought of helping poor and needy people. And then we received the help from LEO club. We jointly set up stores on the street for poor people. So, here, poor people were able to take clothes and shoes without any burden. We were also happy to see the response as many people had donated clothes and shoes," said Kartik Raman, CEO, IDBI Federal bank.