Make bullock cart racing legal - Mahesh Landge
On the first day of the state legislature budget session, MLA Mahesh Landge demanded removal of the ban on bullock cart racing across Maharashtra. . To make his point, he had brought a bullock cart to Mantralaya. However, he was not permitted to bring it in the premises of Vidhan Bhavan.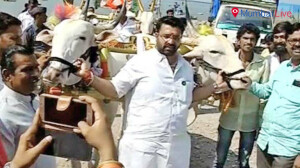 As he was not permitted to bring in bullock cart inside the premises, he staged a symbolic protest outside Manora guest house. "If Tamil Nadu government can legalize Jallikattu, then CM should also take a stand in legalizing bullock cart racing in Maharashtra," said Mahesh Landge.