Shiv Sena celebrations at Baba Makhdoom Dargah in Mahim
Mumbai -
After retaining its rule over BMC, Shiv Sena celebrated its victory by taking out the Vijay Jallosh from Mahim's Baba Makhdoom Dargah.
It was the first time that Vijay Jallosh was taken out from the premises of Baba Makhdoom's Dargah in Mahim. Dhol Tasha band performed on the event.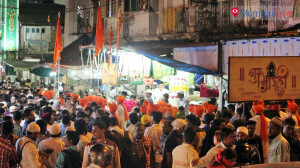 Newly elected Mayor Vishwasrao Mahadeshwar offered Chadar at the dargah. On this occasion State Minister Arjun Khotkar, Shiv Sena office bearer Haji Arafat Shaikh, MLA Sada Sarvankar, local corporator Milind Vaidya, corporator Kiran Landge and other shiv sainiks were present.