GVK eyes Gaothan land; villagers terrified
Mumbai -
Mumbai – In the name of airport beautification and extension, the GVK ML and MMRDA has already grabbed the ground and roads in Sutar Pakhadi Gaothan in Sahar. Now, GVK is trying to grab three gaothans including Sutar Pakhadi, Tank Pakhadi and Our Lady of Health as these gaothans have received notices from the GVK instilling fear among villagers, said trustee of Watchdog Foundation and former corporator Nicolas Almeda. He also alleged that this is an attempt to grab the land in the name of Sky City.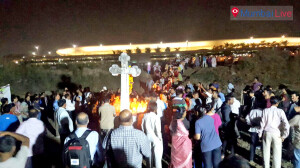 The residents of these villages have started receiving the said notices from February 6. As per these notices, a survey will be conducted during March 8 to March 18. As the survey is for the land acquisition, local residents are terrified.
Almeda alleged that this is a conspiracy to drive away the sons of the soil and particularly Christian community members from Mumbai. He threatened to launch the nationwide agitation and take the issue on the international level against this step.
As the villagers have opposed the proposed survey, the new controversy is most likely.