Ajinkya Kapare selected as U Mumba Future Star
The knock-out stage of Honda CB Hornet 160R U Mumbai Future Stars concluded on Sunday, 26 March, with a thrilling finale between Maharshi Dayanand College and Ramniranjan Jhunjhunwala College which ended at 46-25. Maharshi Dayanand College beat Indira Gandhi College 51-43 in the Semi-Finals, to book their place in the finals against Jhunjhunwala College.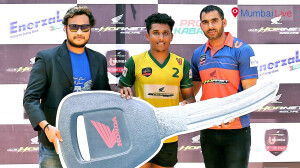 Held at Shramik Gymkhana, the venue packed with Kabaddi fans, which came to witness the young talents in action, as well as India and U Mumba captain Anup Kumar, Rishank Devadiga, Vishal Mane (who was a leading ex-U Mumba player) and U Mumba coach E. Bhaskaran.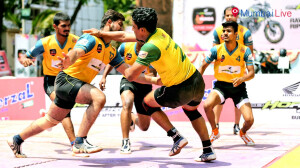 Trushank Rothe, who was selected as the Honda CB Hornet 160R, was presented with a bike and will get the opportunity to train with the U Mumba team in the run-up to Pro Kabaddi Season 5 along with Future Star Ajinkya Kapare. Coach Bhaskaran, who picked the U Mumba Future Star, commented, "Between the last edition of Future Stars and this one, there is a marked difference in the talent on display. It is a clear sign of how the young teams have changed their approach by working hard on fitness as well as their skills."