Summer scorcher -BEST scraps AC buses from 17 April
Mumbai -
The BEST Undertaking has delivered a body blow to commuters using its airconditioned buses by announcing that the entire fleet will be taken out of circulation from this Sunday.
An estimated 18000 to 20000 persons travel on the 266 AC buses that ply on 25 routes in the city. The BEST now says that bus pass holders will be able to travel on express and ordinary buses using these passes. They can also claim refunds of the pass amounts.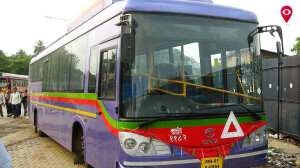 The ruling party in the civic administration has asked for fiscal help from the parent body, BMC. The BMC on the other hand, wants the BEST to tighten its belt and prepare an austere plan of revival before agreeing to help it out financially.
The BEST committee meeting on Monday is likely to see the tabling of the report. However, the sudden decision of the BEST to withdraw the AC buses is indicative of sidelining the civic BEST committee, say sources.