CCTVs, passes, armed guards to ensure stricter security at civic hospitals
Mumbai -
Entry to municipal hospitals will henceforth be regulated strictly. The move comes on the heels of the recent attacks on resident doctors in civic hospitals, which led to a flash strike on Monday.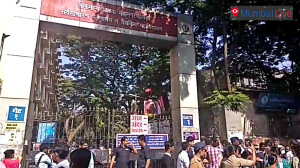 The BMC commissioner, who called a meeting of high level officials to discuss the issue, has decreed that only patients and valid pass holders will be allowed entry to hospitals from now on. Commissioner Ajoy Mehta also said that a criminal offence could be registered against those who attempt to enter public hospitals withoout a valid pass. The civic administration has already issued directives stating the same.
The meeting, held at the BMC headquarters on Monday evening, was also attended by additional municipal commissioner I A Kundan, director (medical education) Dr Avinash Supe, deputy municipal commissioner Sunil Dhamne, deputy municipal commissioner Ramesh Pawar and BMC chief security officer Dattatray Patil. The deans of all the three civic hospitals were also present at the meeting.
Henceforth, passes of different colours will be given to patients and their relatives. It will be necessary to wear these prominently while in the hospital premises.
The commissioner has empowered security officials at the public hospitals to regularly check CCTV footage to monitor any persons entering the hospital without a pass. A police complaint can be lodged against such persons. The commissioner has also directed the hospitals to identify the entry points to all the hospitals and to ensure that valid entry is allowed only through these.
Additional security at hospitals
Armed personnnel of Maharashtra State Security Force will be requisitioned on request whenever needed, according to the commissioner's directive. Armed personnel could also be deployed, if needed. The Force will be empowered with similar rights as the Mumbai police.
Meanwhile, mayor vishwanath Mahadeshwar had made an additional police force of 700 policemen available for security at the hospitals. The commissioner's directive after the meeting however made it clear that the additional force would not be deployed from the Mumbai police, but instead from the Maharashtra State Security Force.