7 facts about RD Burman you should know
Mumbai -
In a nation besotted with dance numbers and peppy tracks, his music came with a harmony, uniqueness and an intrigue that made everybody sit up and notice.
Be it the classic 'Iss Mod Se Jaatey Hain' or 'Oh Haseena Zulfon Waali', R D Burman's musical revelry, just like the man, had many facets; each in complete contrast with each other. It's been 23 years since his untimely death in 1994 but music lovers still can't get enough of his melodies. If you are one of them and if you think you know almost everything about your favourite music icon, hold your horses. Allow us to give you some truly interesting nuggets about Pancham as he was lovingly called, on his birth anniversary today. We bet you haven't heard these before.


Royal lineage

RD Burman belonged to the royal family of Tripura. He was Born in Calcutta and was lovingly called Tablu. It was legendary actor Ashok Kumar who heard him wailing as a toddler and hearing him uttering the syllable Pa repeatedly, nicknamed the boy Pancham.
Early bloomer
When he was nine years old, RD Burman composed his first song, 'Aye meri topi palat ke aa', which his father used in the film Funtoosh (1956). The tune of the song 'Sar jo tera chakraaye' was also composed by him as a child; his father included it in the soundtrack of Guru Dutt's Pyaasa (1957).


Flair for musical instruments
RD was very fond of playing the mouth organ. It was he who actually played the harmonica for 'Hai apna dil to awara' for the movie 'Solva saal'. To set his compositions, he always used the harmonium, though.


'Aradhana' was entirely Panchamda's creation
Pancham's official debut as an independent music composer was 'Chhote Nawab' (1961) which he got as a lark, though he was supposed to start earlier in 1959 With 'Raaz', the Guru Dutt starrer which eventually got shelved. It's said that while composing music for Shakti Samanta's 'Aradhana' (1969) starring Rajesh Khanna and Sharmila Tagore, S D Burman fell ill. Pancham took over from him and completed the movie score. He was credited as the associate composer for the movie, and since then, there was no looking back for the maestro.


Magician of sound
RD was influenced by Western, Latin, Oriental and Arabic music, and incorporated elements from these in his own music. He also experimented with different musical sounds produced from methods such as rubbing sand paper and knocking bamboo sticks together.He blew into beer bottles to produce the opening beats of 'Mehbooba, Mehbooba'.
In the song 'Raat Gai Baat Gai', from the Dev Anand-Zeenat Aman starrer 'Darling Darling' (1977), at one point, a beat is heard which doesn't sound like a conventional percussion instrument. In the song's picturization, it is Aman who is creating the beat by tapping various parts of her own body. In the studio, that beat was played by Burman, literally, on the back of one of his trusted percussionists, Amrutrao Katkar. He asked Amrutrao to remove his shirt and proceeded to play a Latin American beat on his back, with a microphone recording everything. It was okayed in one take and used in the movie.
Similarly, he used cups and saucers to create the tinkling sound for the song 'Chura liya Hai' from the film 'Yaadon Ki Baaraat' (1973). For 'Satte Pe Satta' (1982), he made the singer Annette Pinto gargle to produce a background sound. He also rubbed a comb on a rough surface to produce a whooshing sound in the song 'Meri Samne Wali Khidki Main' from the film 'Padosan' (1968).
He wrote the lyrics for the English song that plays during a key scene in 'Deewaar' (1975).
In a bar scene in the film 'Deewar' where Amitabh Bachchan meets Parveen Babi for the first time, an English song plays in the background " I am falling in love with you'. The lyrics of the song were written by Pancham da.


Composed Latin American rock album Pantera
Panchamda was mostly known for his film music, but among his non-film work was the little-heard album Pantera (not to be confused with the American heavy metal band), which combined Latin American music with elements of rock, jazz, and funk.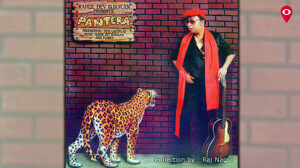 It was recorded in the United States in '83-84 but released only in '87. Comprising contributions from established Latin American musicians of the time, it was produced by Pete Gavankar, who was based in the US and had good contacts with local musicians. The album was not well received by the Indian audience, however.


Real life influences
The song 'Musafir Hoon Yaaron' from the 1972 movie 'Parichay' was composed by Panchamda when he was at a hotel after separating from his first wife Rita Patel whom he met on a blind date. He later married legendary singer Asha Bhosle.