ICDS felicitates 7 anganwadi volunteers
To mark the occasion of International Women's Day, Integrated Child Development Services Scheme (ICDS) felicitated anganwadi volunteers at Rajasthan hall of Goregaon. This event took place on Saturday.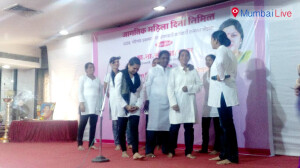 During this programme, state minister Vidya Thakur, corporator Shrikala Pille, and Rajul Desai were present. To spread awareness regarding women's woes, Anganwadi volunteers showcased street plays regarding female foeticide, malnutrition and various other female related issues. Seven of the Anganwadi volunteers who handled Goregaon area were felicitated.