MMRC managing director planted saplings on women's day
To mark the occasion of International Women's Day, saplings were planted at airport colony of Vile Parle. Airport Authority of India initiated the initiative. MMRC managing director Ashwini Bhide and AAI CEO K Hemlata was present. Both Bhide and Hemlata planted saplings.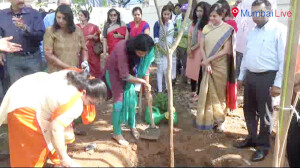 "Every individual should plant a sapling because only then we will be able to save the environment. We have to cut down trees for the development purpose and so we are also planting saplings," said Ashwini Bhide, MD, MMRC.